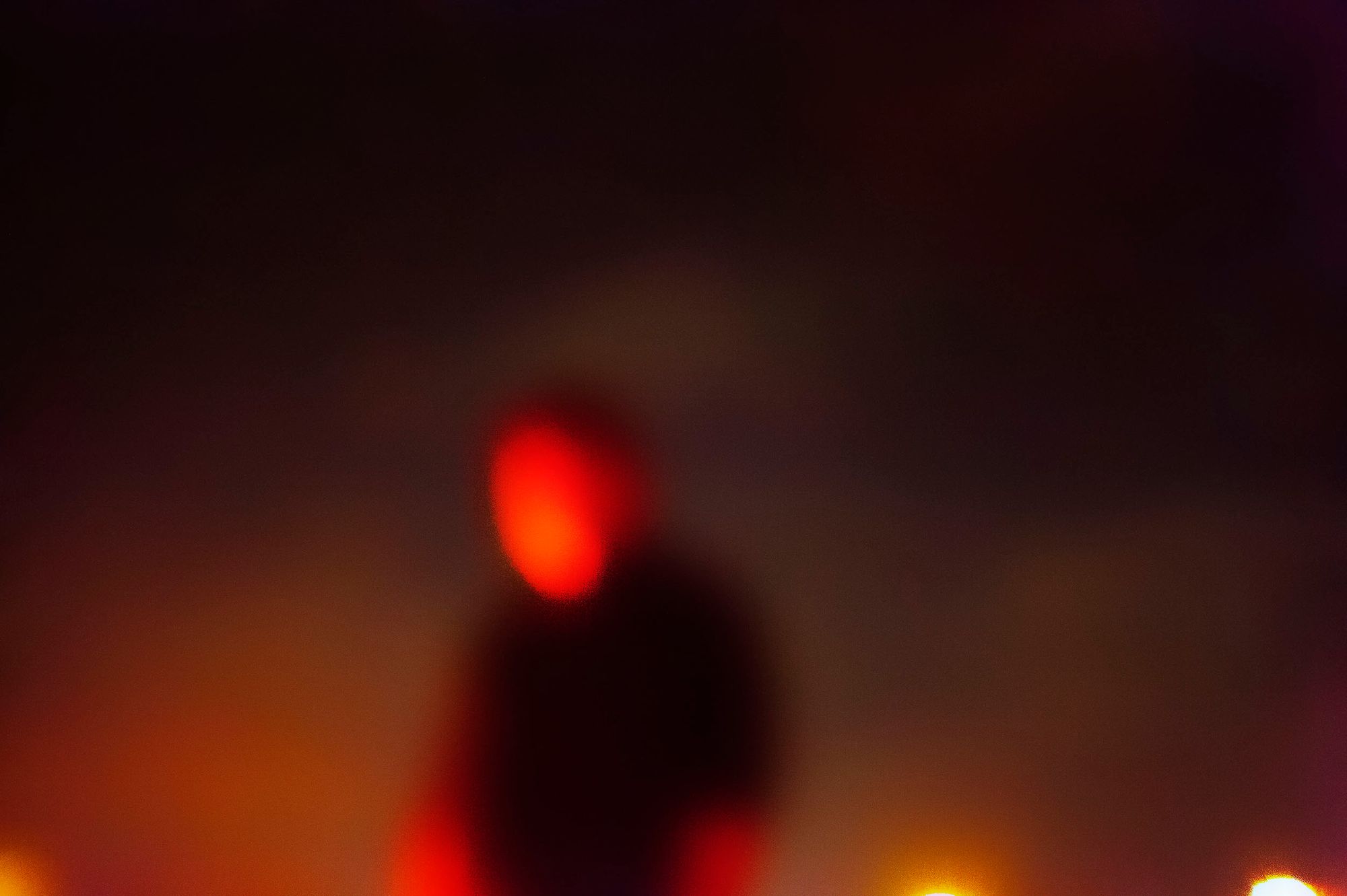 Artist Statement
"The camera works to document the external, but more importantly, magnifies the mysteries which exist within one's self" How does emotion impact memory? How does the familiar slide into the unknown? How do we transform what we're seeing into something vital and essential about the world we share and live in?
Steve's images start with the ordinary— a line of road paint, a beach scene, the luscious hand-polished finish of a classic car from the 1930s. Quite soon, though, they begin to dissolve into a study about our solitary existence, one each of us feels even amidst community and connection with others.
Not just an observer, Steve is present with us, describing but also raising questions about what we think we see. His images reveal over and over the metaphorical fog that shrouds our experience, as well as the endless, sometimes overwhelming possibilities. He captures a moment of doubt on an exhilarating carnival ride, an obscure everyday moment in a department store when dissociation overtakes the route to the makeup counter. He pinpoints the moment when a profusion of packed color overrides cognition and becomes a graphic abstraction.
There is pathos and humor and wonder in Steve's juxtapositions, as well as whimsy. Some images are captured on the fly, some highly processed to drive home an emotion or atmosphere. He brings the breadth and keen editing skills of many years of commercial photography to his personal work. The images in this site show the top edge, only examples of different deeper investigations. His work on automobiles and architecture focuses on the precision and beautiful skilled vision and craftsmanship. His 1970's B+W studies of urban places look back with a romantic view of where America has been, and possibly with humor as to where we are going. Steve thrives on creating fresh and authentic images while he continues to experiment and explore the roads less traveled.
Education: BFA / Massachusetts College of Art and Design
Current Shows:
2020: Beacon Gallery: SOWA: 2-Person Photography Show: Curated by Christine O'Donnell
2020: BSA Space: Architecture of Time Juried Show: 2 Images Selected- 12/19-12/20
2020: Corporate Group Show: VMWare: 4- pieces selected: Road Paint
Solo Shows:
2019: Griffin Museum for Photography: The County Fair
2018: Garrison Art Center, Garrison, NY: 'Road Paint',
2017: Catamount Arts: Ranson Gallery, VT: 'All Roads Lead Home':
2017: Boston Public Library, Jamaica Plain, Ma: 'Road Paint'
Group Shows:
2020: WILD: Gallery 263, Cambridge, MA. National Group Juried Exhibition: The County Fair, 01
2020: Praxis Gallery, Minneapolis, MN: Juried Group Show: 'The Streets': Urban Landscape
2020: Members Prize Show: Cambridge Artist Association: Road Paint: Curated by Jessica Roscio
2020: Galatea Fine Art: Group Photography Show: Dynamic Lenses
2020: Group Show: Cambridge Artists Association 'Broken Beauty' Juried Show:
2019: Winter Solstice, Members Show: Griffin Museum of Photography
2019: Photographic Resource Center, Members Show: Altered States
2019: Cambridge Art Association: 2019 Mary Schein Fall Salon: Jurors Award: Altered States
2019: 7th International Call: RI Center for Photographic Arts: Oceans Edge 01 and 04
2019: Landscapes and Seascapes Juried Show: 311 Gallery, Raleigh, NC: Oceans Edge
2019: Dusk to Dawn: Juried Show: NY Center for Photographic Art: Honorable Mention: The County Fair
2019: Davis Orton Gallery: 5th Annual Group Show: Hudson, NY: 'Ocean's Edge'
2019: New England Collective X: Galatea Juried Show: Galatea Fine Arts, Boston: 'Ocean's Edge'
2019: Cambridge Art Association: 2019 National Prize Group Show: Road Paint
2019: MOPLA: Month of Photography Los Angeles: 2- 1970's B+W portrait photographs in Analogue Portrait Project
2019: 12th Annual Gala Awards Show, Barcelona, Spain: 'The County Fair'
2019: Photowork 2019: Barrett Art Center, Juror James Ganz, Senior Curator of Photography of the J Paul Getty Museum, LA: 'Road Paint'
2018: Bronx Documentary Center, Bronx, NY: 'The County Fair'
2018: Secret Gardens, Nave Gallery, Somerville, MA: 'Flower Power'
2017- 2018: Arts Connect: Catamount Arts, St Johnsbury, VT.
2017: SE Center for Photography, Greenville, SC
2017 Arts Connect: 'Road Paint' 2nd Place, Juried Show, Catamount Arts, St Johnsbury, VT
2016 Art Now: 'Road Paint' New Directions in Contemporary Photography, Ann Arbor Art Center, MI
2016- 6 Bridges Gallery, Maynard, MA, Juried Group Exhibition: Winner: Gallery Award:
2016 Del Rio Council for the Arts / F22 Juried Exhibition on Photography
2016 Danforth Art Annual, Danforth Museum of Art: Juried Group Exhibition
2016 5th Annual Juried Exhibition, Sohn Fine Art Gallery, Lenox, MA
2015: The Fence: 6- 'Road Paint' images chosen for Brooklyn, NY, Houston, TX and Atlanta GA 2015 Danforth Art Annual, Danforth Museum of Art: Juried Group Exhibition
2014 Danforth Art Annual, Danforth Museum of Art: Juried Group Exhibition
2013 Grand Prize Winner, Santa Fe Photographic Workshops, Santa Fe, NM
Publications: International articles on my work:
2019: Create Magazine: 'Road Paint'
2018: Communication Arts: 2018 Photography Annual: Institutional Category
2018: "The County Fair' published online gallery portfolio at The Vision Project.
2018: 'The County Fair' published online gallery at: The Social Documentary Network.
2018: B+W Spider Awards, Winner, Architecture
2018: The Weather Channel- Online Story about US Climate Change: Humarock, MA
2017: Chronagram: December 2017 Issue: Road Paint Photograph: Arts & Culture Section
2017: Graphis International 2017 Photography Annual: Gold Award
2017: Seven Days: Art Review: Road Paint: Arts Connect at Catamount Arts Juried Show
2017: Boston Political Protests and Marches' at the Social Documentary Network Presentation at Silver Digital Imaging in Belmont, MA
2017: Published work on Social Documentary Network
2016: CNN Online: Article and Interview about my 'Car Details' series of photographs.
2016: Adore Noir: Article and interview on my 1970's series of Black and White images.
2016: F11 Magazine: Article and interview on my 'Road Paint' and 'Car Details' series.
2016: Fah Thai Magazine, Profile w/ 2-page spread of photographs, Bangkok, Thailand
2016: Yankee Magazine 2016 Sept/Oct Issue: Vermont Covered Bridge.